As a kid in the nineties, Super Mario was my hero, and Nintendo is where you played Mario games. My first experience with Sega and Sonic wasn't a great one as I thought it was too fast and too hard for my 7 year old mind. So through out the nineties I was a big supporter and fan of Nintendo, disliking Sega, and eventually disliking Sony due to the PlayStation's "slow" loading discs. But by the turn of the Millennium, my tastes in video games were going to grow a lot, but how did this once Nintendo Fan boy buy himself a PlayStation in 2001 you ask?!
Dance Dance Revolution and Dancing Stage…
Yup, it's a little embarrassing to admit it, but when I went to the Millennium Dome in London back in 1999, there was a tiny arcade inside, and one of the few machines inside, with a couple of Pinball machines and crane games was a Dancing Stage. For those outside Europe, Dancing Stage was the name to Dance Dance Revolution in Europe, no idea why, hunting on Google and Wikipedia didn't give any results either, but regardless to the name change, it was the same game by Konami with a couple of licensed tracks thrown in. I popped in a £1 coin and began to play the game. As to anyone playing a dance machine for the first time, I was terrible at it, but at least I got to my third and final round before failing. There was a lady in this tiny booth watching me play the game. And when I had finished she walked out and pulled out a plush toy from one of the crane games and had told me that I was the only person who had gotten to the third round since the Millennium Dome was opened. I was kinda chuffed, accepted the toy, and began to think on how to could get that game home.
That's where it struck me. The only Nintendo versions of Dancing Stage and Dance Dance Revolution were only available in Japan, there was a version on Game Boy Color that came with a mini platform you mounted on top on the portable as you make your fingers do the dancing. I thought that was pretty silly (I say that when most people think stomping your feat on pink and blue glass panels is silly!), there was an actual version of DDR on the N64 in Japan, but it was the Disney Rave Mix, Disney "Rave" Mix? I'd hate to see what happens to Mickey when dropping Es at a rave. In the mean while, I was waiting to go on holiday to the coast to scour the piers and arcades for actual Dance Machines. The waiting and hoping that a version of DDR and Dancing Stage could appear on the N64, Dancing Stage Euro Mix got released in 2001 for the PlayStation. At that point I thought to myself, I can't play DDR on the N64, I gotta go and get myself one of those "Slow Loading" PlayStations. At the time the PS2 was reaching it's first year in Europe, and I didn't care for it then, I wanted to see how cheap I could get a PlayStation 1 just so I could get my DDR fix. Before Christmas of 2001, I managed to buy an original PlayStation 1, not the PSOne, from a bloke at a Market/Car Boot sale for £40 (I still regret paying that price for a second-hand PlayStation) and got myself a copy of Dancing Stage Euro Mix and a dance mat from GAME. So I got what I wanted, a system that I got my DDR fix from. But as time slowly moved on, I would return to the same car boot sale for other PlayStation games that might grab my interest.
Someone bought this for £94.90!? Ouch…
Going with the Rhythm game theme, Europe got Beat Mania, think DJ Hero before DJ Hero existed, and was made by Konami, the same people who made Dancing Stage and DDR. It was a pack that came with a poorly made turn table controller that broke on me. I handed it back to the bloke at the car boot and demanded a refund, but he refused; at around the same time I noticed that GAME were selling off copies of Beat Mania to clear space in their warehouses for a fiver a piece, I bought one, then handed over the one I bought from the Car Boot Sale inside the box that I got from GAME to get my money back.
And into more Rhythm Games, I got a copy of Vib Ribbon. Now this is an interesting game as it never got a US release. Developed by Nana Onsha, the same team behind Parappa the Rapper. Vib Ribbon was a simple game whereby you jump over obstacles of different shapes generated from the sound being made from your music CDs. There are 8 different obstacles, each obstacle had to be jumped over in a different way by pressing a different button on the PlayStation controller; some required you to press two buttons at once. Think of this game like a Canabalt or Temple Run; you play as a wire frame bunny rabbit character who is running to the right (or the left depending on the camera angle) and you jump over holes and walls, it's a rhythm version of an endless runner game, except it's not really endless as the level would end at the end of the track.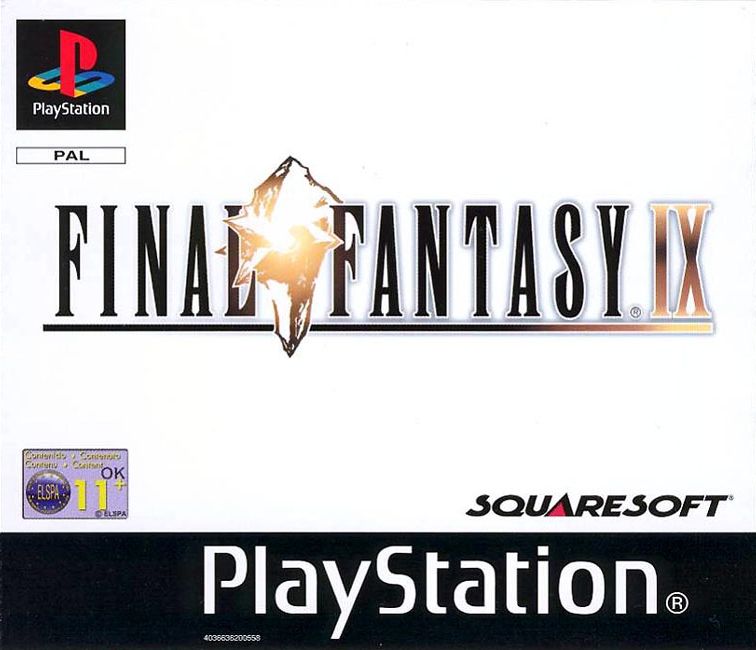 Something a little different from Rhythm games, Final Fantasy IX. Before I got the PlayStation, I owned the PC version of Final Fantasy VII, and loved the crap out of it. There was a version of Final Fantasy VIII for the PC, but I didn't know where to find a copy, and Final Fantasy IX never had a PC release. But with my own PlayStation, and a WH Smith £10 book voucher, I got myself a copy of Final Fantasy IX. For the time I had it I enjoyed it, though I didn't beat it, and by the time the GameCube came out, I traded it in for a copy of Super Smash Bros Melee at a local small Games Shop that I would eventually hate big time.
After this revelation in gaming, this Nintendo Fan Boy was fan boy no more, my taste in games were broaden, and soon after picked myself up a DreamCast, and used eBay and Car Boot sales to pick up other consoles such as the Master System, a Mega Drive, and later on pick up a TurboGrafx and an Atari 2600.
So yeah, DDR made me like other systems, Let's dance!
Dont ask me why exercising anthropomorphic rabbits and Cotton Eye Joe have in common…  Only Konami knows! lol!